Here's the dyno from my current combo. Randy Haywood did the tuning for me using the dyno here in Columbia, SC at ATS Peformance
Still having fuel issues...enough to keep me from spinning as high as we'd like. 6,700rpm is where we shut down now.
Just below is a link to an earlier dyno tuning session before the rebuild. It'll give you a general idea of the exhaust note of the car.
With the rebuild I added some HP spec'd blower cams which have changed the sound a little.

---
Click HERE to hear and see my car on the dyno.

---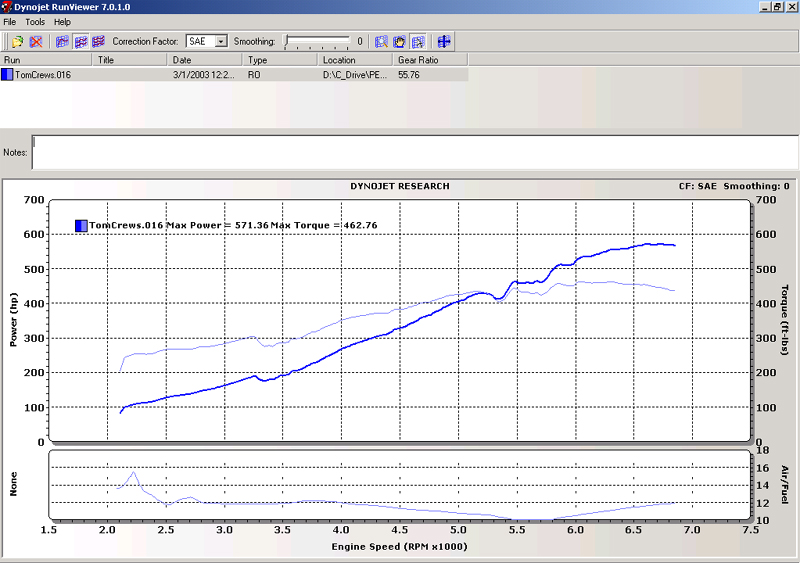 Originally dyno'ed naturally aspirated with FMS Shorty headers, Bassani catted X-pipe, Bassani catback and 4.10 gears which netted 276 rwHP and 277 rwTQ.
Made it back to the dyno for a pull with the Vortech... We couldn't get a torque reading off of my wires (MSD) so I'm not sure what I'm making there. Horsepower....how about 425.6 rear-wheel Horsepower!!

Oct/21/2000 MAJOR UPDATE:
Just had the car tuned on the dyno with an Autologic tuner (Mike Wilson). New numbers are 460 rwHP and 390 rwTQ !!!
I'm extremely pleased with the car but there is still a LOT I need to do to finish/clean up the job. BIGGER injectors!! Killing power at 6,500rpms now and shifting around 6,200rpms (no more 7k rpms pulls for now).

Mar/01/2003 MAJOR UPDATE:
Needing bigger injectors was an understatement, lost the engine at Darlington Dragway in 11/2000 :(
Houston Performance did a nice rebuild on my engine, .020 over-bore, forged internals, ported heads, blower cams, billet oilpump gears and a Canton oilpan.
I've upped the boost via the "GT" impeller upgrade and dropping from the 3.60" pulley to a 3.33" pulley.
New numbers......how does 571 rwHP and 462 rwTQ sound? And thats for a daily driver! All on 93 octane gas too!

---


Well I made it to the track finally (Darlington Dragway in Darlington, SC) and made a few passes.
Left=NA : Center=Vortech Enhanced : Right=Best Run