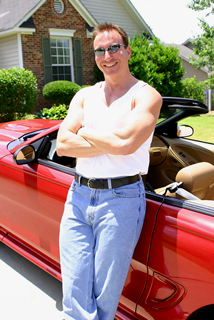 Hi, my name is Tom Crews and welcome to my website. I live in Columbia, SC which seems to have it's share of hotrods, old and new. I've had a webpage since February of '96, but it was not much of anything and had no focus, so I've dedicated this site to my 1997 Cobra coupe, which by far is the best car I have ever owned. I hope to keep this page updated as needed and you find the information at least entertaining as well as informative. So check back often for updates and feel free to email me with any comments you have. My car has gone under drastic modifications yet is still driven daily. Recently I added a 1998 Cobra convertible to my "corral" to take over those daily driver duties.
Now....on to the content.

I grew up not really interested in any particular brand or type of car, and the only clue I have as to why I am into Mustangs is because my older brother was. My older brother, Jim, had a few friends in Middle School and then Highschool that owned/built Mustangs and I believe my hanging around them eventually caused my love for Mustangs. Of course they were into some really nice vehicles...1970 Mustang Fastback 351 4V Cleveland, a 1970 Torino with 429 SCJ, a 1971 Mustang Fastback with 429 Police Interceptor, etc... I actually bought my first Mustang from my older brother, a 1969 Mustang Fastback with a 351 2V Windsor, that was in much need of repair. This is also about the same time I realized that I'm not into restoring cars. :)


---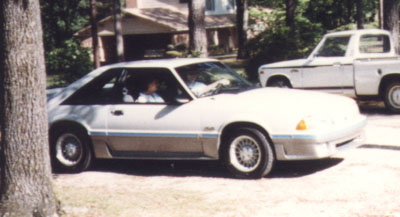 I went through a 1979 Fiat X/19 Bertone (fun car...NO power), a few trucks, and then my first new car....a 1988 Mustang GT. I bought this car on April 29th, 1988. Wow....a new car...and POWER...225 HP @ 4200rpms and 300 ft.lb. @ 3200rpms. I have to admit, I thought I had the quickest/fastest car on the road. I knew there were cars a lot quicker/faster than mine, but everytime I turned the key and heard the rumble of the exhaust, that knowledge seemed to leave me. The car was light grey with dark grey skirts/bumpers and a blue stripe around the car. Cloth interior, loaded, and of course a 5speed. I loved this car and enjoyed every opportunity to hop in and drive it. I wish someone would have told me back then that you weren't supposed to "catch second" everytime you drove the car.......but my transmission finally let me know by failing on me during a trip to Myrtle Beach, SC. It's not a very nice feeling to be cruising down the highway (cruise control on) and suddenly the car starts shaking horribly and then begins coasting down. Oh...I did tap the brakes during the shaking so cruise control had turned off. This also happened the month of making my last car payment too (4years). Thankfully Ford had a 5year 60,000mile warranty so the transmission was repaired.

---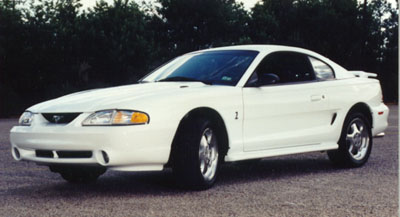 In 1994 Ford changed the body style of the Mustangs and six years was the longest I had ever kept any vehicle so I began taking a serious look at the new style. I loved it! I thought it was more sporty/sleek looking than the FOX, but.......power was down. How could I trade for a slower car? Low and behold Ford brought us the SVT Mustang Cobra. I really didn't know until later that there had even been a 1993 Cobra or CobraR, so I thought this was going to be a very unique car. I traded the '88 GT (100% factory stock, 52,000miles) for a Crystal White Cobra coupe in early May of 1994, and once again....I felt/thought I had the quickest/fastest car on the road....well...not really. But I did feel that I had the best looking and nicest car on the road. Crystal white with black leather interior and completely loaded. Not only did this car have power...240 HP @ 4800rpms and 285 ft.lb. @ 4000rpms...but it was very luxurious (to me) as well. Leather, CD, Mach460, Power everything.....better handling and braking, I was impressed. I think the saleman realized how much I wanted this car because I did not get a good deal at all....trade in or price. I had to finance with a balloon payment (3 years, then finance the balance at the same rate for another 3 years)....not very smart on my part but I wanted the car.

---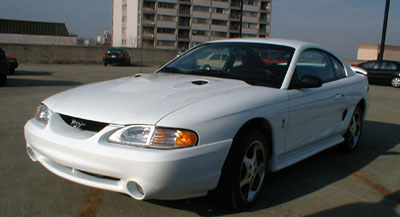 Okay..so it's 3 years later, warranty has expired, job changes and income changes have occurred and I'm reading all about these new DOHC 4.6 4V Cobras that have been out since 1996. During the refinancing of my '94 Cobra, the loan manager mentioned that I had some decent equity in the car and would be in good shape to trade in for a new one....if I so wanted. It wasn't more than two months after refinancing that I decided to trade in for a 1997 Cobra coupe. I had been drained financially for the last few years, had just changed jobs which gave me a months time without any income, so when I got my first (new job) paycheck I paid all my bills but had nothing left over to make my car payment with. What better time to trade in a car...you know...and start payments a month later :) Ford was also running 5.9% for 60 months, I didn't have money for the current car payment, and I needed new tires.......off to the Ford dealership. I traded my 1994 Cobra (100% factory stock 26,000miles) for a 1997 Cobra on August 16th, 1997. Wow....this car was really different than the other two Mustangs I had owned. The powerband was different (305 HP @ 5800rpms and 300 ft.lb. @ 4800rpms) but did it ever pull when you took it to redline (6800rpms). Not only did it feel like it was never going to stop pulling as you wound it out...but it just kept sounding better and better as the rpms climbed.

---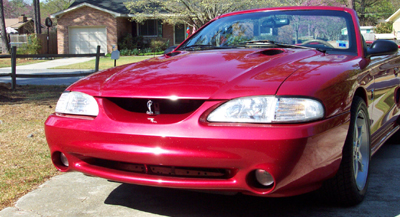 So now it's 2004 and I've let the modifications get a little out of hand and the car is a bit too much for constant daily driving duties :) I blew the engine back in Novemember of 2000 and after rebuilding it I still had a lot of "little" things needing to be upgraded/fixed that was very hard to do with having to depend on the car as my means of transportation. Fuel system still needs some work, cooling system needs some improvement and above all I never felt secure in driving the car on any long distant trips. About as far as I liked was 1.5-2 hours at most. So my search began for a "replacement" daily driver. I wanted a convertible and I wanted another Cobra of the body style as my current coupe (1996-1998). I wanted White exterior and Black interior and top. Wow....you can't find this combo on the East Coast at all. Tons seem to be for sale on the West Coast and Midwest area...but not around here. Finally found a 1998 Laser Red Cobra convertible with Tan top and interior. I wasn't a big fan of Tan with White but with the Red it looks pretty sweet. I've also realized that for a convertible in the hot south, Tan makes much more sense :) Basically stock, '95 Cobra R wheels, lowering springs, snake grill emblem, clear corners, SW Designs bumper letters and VRS offroad X pipe with the Bassani BX catback.